News
Halloween 2019: Treats, awards, and attractions: no tricks
02. November 2019
Varna Mall visitors were delighted by the most fabulous and fearsome Halloween, full of many awards and impressive attractions on the last October day of 2019.
Hundreds of young and older guests at the festivity got entertained by the huge interactive dinosaur, which was trying to find the way towards Jurassic Park around the hallways of the Shopping Center and was posing for photographs together with the most adventurous and nosy visitors.
A storm of soap-bubbles made its way into the central foyer. Youngsters competed in hunting for them, and all of them wanted to get on the stage in order to "get into" the gigantic bubbles, which were taller than their own height.
Teenagers formed queue-lines in order to get autographs and photos with their Internet favorites Nicole DB & Vaseto, and then vehemently applauded their musical performances.
Everyone had prepared themselves diligently for the carnival masquerade and marched in on the City Halloween Parade, pumped with self-confidence for being genuine princesses, vampires, and witches.
Surprisingly, most of the young participants in the festivity admitted before the Masters of Ceremonies that when they get older, they would like to be veterinarians, hairdressers, and… YouTubers.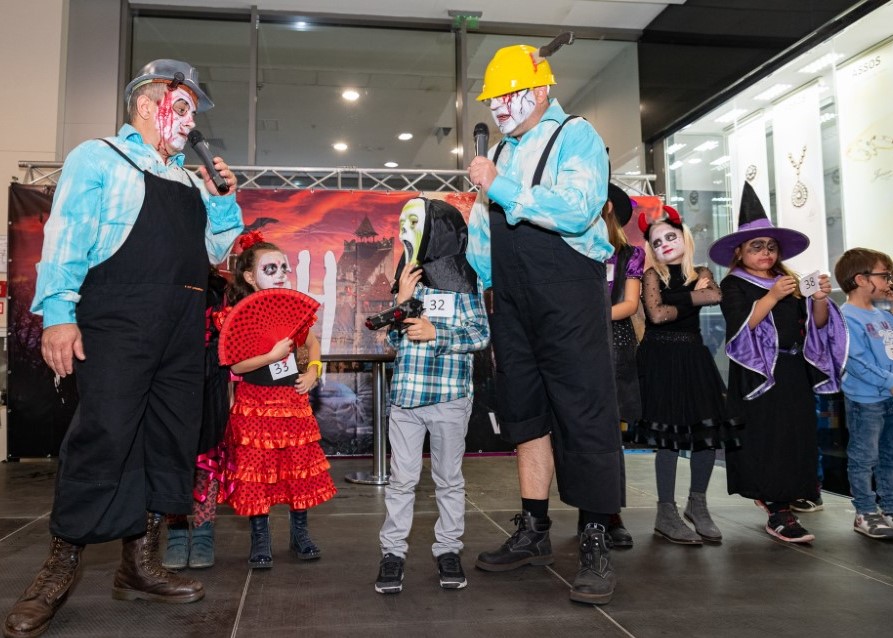 For the guests with the most attractive outfits and pumpkin jack-o-lanterns, there were lots of awards provided by Varna Mall and the outlets in the Shopping Center, and for all those who joined the parade – tasty Borovets sweets from "Day and Night" and a Nestle chocolate drink.
This year, Varna Mall had prepared a special gift – "Family trip to Dracula's castle in Bran in Romania". Everyone who had joined in the raffle with vouchers at the Help Desk, competed for it. The luckiest was Violeta Petrova, who will embark on a journey towards the lands of the legendary count, together with her entire family.